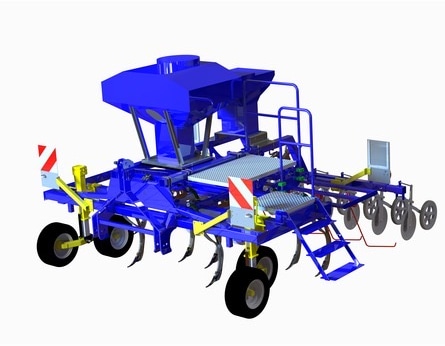 Treffler TKM 2 - component sowing machine
For optimal placement depth, dosage and plant distribution on the surface of mixed cultures/ batches
Why mixed cultures/ batches?
The cultivation of catch crops or main crops as a mixed crop or batch has advantages.  This includes the more efficient use of resources such as nutrients, light and water.  Therefore, a lower cultivation risk and lower yield fluctuations. Depending on the mixture components, weed suppression can also be achieved by a quick covering component. A mix component can also be used as a support crop. Later, this will make threshing easier.
Requirements for sowing batches
Because the batch partners usually differ greatly in the grain size and thus the depth of the deposit, it doesn't benefit the cultures to sow with a seed drill.
The Treffler TKM 2-component sowing machine eliminates these problems.
Due to the separate dosage and placement of large and small grain seeds, the batch partners are evenly distributed over the entire area and optimally spread. Therefore, making optimal use of the distribution.
No separation of seeds.
Even distribution of the batch partners over the area
Optimal dosage
Optimal placement depth
Our tine coulters deposit the coarse-grain up to 10cm (4in) deep
Small grain seeds are placed over double disc coulters ( Lemken) from a depth of 0.5 cm (0.2in)
Areas of application
The Treffler TKM 2-component sowing machine can be used both for blind sowing on prepared soil and for direct sowing in the stubble.
How is the TKM-2 Composed?
Sowing machine with tines - for the deep placement of seeds, up to 10cm
Seed tank capacity 420 liters (110 US gal)
The pendulum support wheels for infinite adjustment of the seed depth and depth control
Tine coulter- our sickle coulter tears open the soil and the seed is laid on solid soil with a water connection.
Disc coulter sowing device (Lemken), for the flat placement of seeds from 0.5 cm
Seed tank capacity 200 liter (52 US gal)
Double-disc coulter ( Lemken) a perfect placement at a shallow depth and reconsolidating create the foundation for a perfect seed emergence. The sowing depth is infinitely adjustable with a crank.
Spreaders for levelling.
The depth of the spreaders is adjustable with a crank.
TKM on Cultivators
For a precise depositing depth of the batch mix
Large grain seeds are deposited on tine coulters up to 10cm deep
Small grain seeds are spread on double-disc coulters from 0,5cm (0,2 in) up, or are spread on the soil, in front of the rear harrow